Having an online presence is vital in the 21st Century. In a competitive market and with social media algorithms it is far more difficult to get noticed.
How do you keep your business visible and relevant within the fast pace of the online world?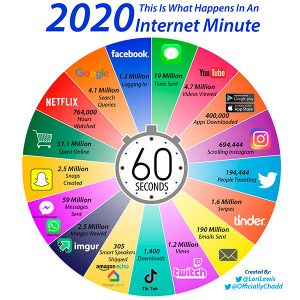 eyMan/eyLog allows you to interact with your staff and new booking enquiries online as well as with your parents through our dedicated parent app.
Managers can send simple messages as notifications and/or announcements or rich text messages such as newsletters. These can be sent to all or selectively to a group or individual parents and/or staff.
How else do you use the internet to prompt your setting, interact with customers and be visible to prospective customers?
Being online either through your website, social media or networking channels has many benefits in today's competitive world. These include;
Visibility.

Most research starts with a generic search – Allow your customers to find you. Have you Googled your own setting? How is your SEO? How can you improve this?

Build a stronger brand.

Have a consistent archetype across all your platforms. Utilize your online voice.

Widen your reach.

Online presence has no borders. What radius do your parents come from and what was the reason for choosing your setting over other possibly closer options? Do you collect data on why your parents have heard about and chosen you?

Cost effective.

As more and more childcare providers are moving to online solutions such as eyMan/eyLog, a big advantage is the reduction in paperwork, printing and storage costs, as well as a more effective use of staff time. This is also true with online marketing. It provides a multimedia history of your business, it allows interaction and a real time insight into your setting.

Reputation management.

This is a large aspect to a business and their marketing plan, which has increased vastly within the last decade with the surge of social media use. This element of business has become key, and businesses must be more aware of how they are perceived by audiences, even if they may not be your target market.

Increase your credibility.

When you hear of a brand or a product, one of the first things you do is check the online reviews, look at competitors and collect information to make an informed decision. Having an online presence validates your business, and allows all contact information and business hours to be visible in one place.
Follow eyLog Ltd on Facebook, Instagram, Twitter or LinkedIn.