One of the four specific areas of learning in the EYFS framework, is Understanding the World, designed to provide guidance and opportunities for children to make sense of their physical world and their community through opportunities to observe, explore, and investigate,  and find out about places, people, technology, and the environment.
In the original EYFS framework this area was known as 'Knowledge and understanding of the world around us'  most aspects of the area of learning and development have been carried over to this new title.
Babies and young children 'find out about the world' very effectively when they investigate by touching, holding or pressing things and by climbing on and jumping off things – generally doing a lot of the things we ask them not to do!!! lol
Often as the children grow they explore the world in a slightly different manner and love to explore and investigate how and why things work and to test out their ideas of what will happen if they do a particular thing.  They enjoy problem solving and action and consequences.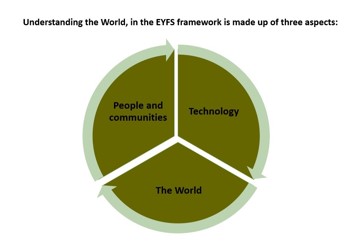 Let's explore these aspects further.
THE WORLD
The world covers aspects to help children know about differences and similarities around them and in the wider world. It provides opportunities for opportunities for experimentation,  to explain why some things occur and to talk about how and why things change, by learning to make observations.
Exploring and understanding places for children initially start in their own home and other familiar places nearby, this develops into children noticing objects, patterns, sequences on journeys to and from home, such as the colour of a building, the number on a door.  
It is important that children are provided with opportunities and activities both indoors and outdoors to encourage children's interest and curiosity.  Activities and play should be  activities based on first-hand experiences that encourage exploration, problem solving, experimentation, prediction, observation, critical thinking, decision making, and discussion.
PEOPLE AND COMMUNITIES
Learning about people and communities starts with being curious about individuals, learning people's names and enjoying looking at photos and books about themselves and their families.  This develops into being a positive contributor to a group and acknowledging and accepting the differences between people, and learning about and celebrating cultural celebrations and events.  As children start to understand about the people in their life, it's important to provide opportunities for children to talk about past and present events in their life.
TECHNOLOGY 
Technology nowadays is commonplace in most households, and whilst we may predominantly think of technology as screen time it crosses a broad spectrum.  A wind up toy, a light switch, a car key and pressing the buttons to lock and unlock all contribute to children recognising the role of technology  in the childcare setting and at home.  This helps children identify the role technology plays in our world and the different types and uses of technology.