eyLog Ltd was founded in 2012 with eyLog released as its first platform providing an online solution to Early Years paperwork, incorporating real time information for parents, encouraging 360 engagement with parents and allowing for at home observations to be included in a child's learning journey through our parent portal and eyParent app.
Our intelligent, innovative and integrated system helps you manage your childcare setting by reducing paperwork, time and operating costs while increasing quality, efficiency, and 360° engagement with parents. Proudly serving childcare providers and curriculums from England, Wales, Scotland and Northern Ireland.
The best learning journey software transforms the process of recording observations, enabling staff members to add evidence through text and media, assessments and next steps.  With the tablet based practitioner app planning sheets, trackers, summative reports, daily communications diaries, signing in/out, accident/incident/medicine forms can all be completed in a time and cost effective manner and sync with our  eyParent app.
eyLog supports a wide range of assessment frameworks in England, Scotland and Wales which enables you to focus and plan towards a well-rounded learning and development for the children. You can easily customise which frameworks appear on your tablets, depending on the requirements in your early years setting. The English frameworks include Early Years Foundation Stage (EYFS), Early Learning Goals (ELG), Early Years Developmental Journal (EYDJ), Characteristics of Effective Learning (CoEL), Every Child a Talker (ECaT), Leuven Scales of Well-being and Level of Involvement, British Values, Phonics, Schemas and Montessori. The Scottish frameworks are Curriculum for Excellence (CfE), Pre Birth to Three, Four Capacities and the Wellbeing Wheel. The Welsh frameworks are Birth to Three Matters and Foundation Phase.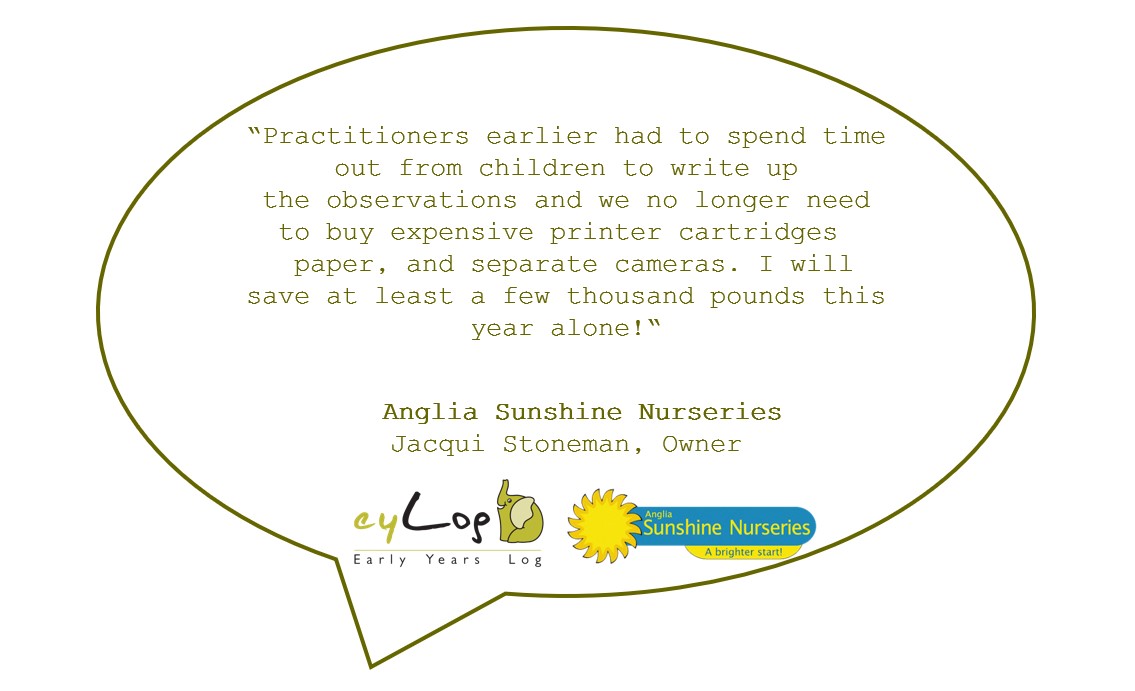 For a free demonstration or any questions about our platforms, contact us at info@eylog.co.uk