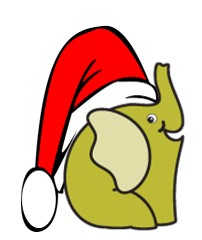 So 2020 is coming to an end and it's going to be one to add to the history books. 
Generations to come will Google where did the "elbow greeting" originate from!! ?
How do you celebrate with colleagues in your setting?

What's your favourite part of this time of year?

What are your traditions around the festive period?
As we wake up on Christmas morning to mince pie crumbs, and a nibbled carrot – the evidence that Santa has been, excitement fills the home, as we open our full stockings from the comfort of our bed, in our pyjamas.  Too overjoyed to contemplate eating breakfast – well unless it's chocolate, it is Christmas Day after all!!! Lol
The enthusiastic gasps on the children's faces as they are welcomed by the sight of colourful bows and ribbons and presents of all shapes and sizes placed underneath the tree, the decision of which present to open first is just too overwhelming.
What feels like minutes later, the chaos of a festive hurricane has whipped up and spat out the wrapping paper, ribbons, bows, tissue paper, toy packaging, leaving a trail of destruction across the floor, whilst the children play with their new gifts as Christmas songs play softly in the background.
So, the meal prep starts, the hunt is on for the "emergency chairs", the fancy crockery is dusted off and wine corks are popped, we now await our guests and pray we've "winged it" enough to serve something edible!!lol
The time comes to find your place at the table, pull the crackers, cheers and tuck in, making sure tummies are sufficiently full to sent us off to sleep in the chair – Christmas hat still in situ, ensuing the indigestion tablets are within arms reach, and a reminder has been set for the Queen's speech.
Ultimately, the delight of giving and receiving gifts, sharing quality time together and creating wonderful memories is what makes Christmas a special and joyous time, and however you celebrate this occasion everyone here at eyLog Ltd, we would like to wish you all a very happy festive season and a great year ahead.  May 2021 bring in lots of happiness, peace and joy to you and your families.